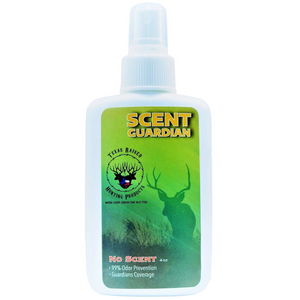 Scent Guardian
Regular price
$10.95
$0.00
 The Scent Guardian (No Scent) 
Never play the wind again!!! That's right 100% guarantee you will never get winded again. The Scent Guardian "No Scent" is our newly developed patent designed formula and process for Human Scent & Odor and Bacteria Elimination. We have spent years of field testing and critiquing in labs and not setting for the end results being good enough!
Formula Patent and Trademarked!!!
Electrically Charged Guardian Coverage & Ozone Infused Ionic silver.
99.9% Guarantee "You Will Never Get Winded Again!"
Made With 100% All IN-ORGANIC INGREDIENTS
First Liquid version That Controls levels of EMF A.K.A Electro Magnetic Frequencies your heart produces when it beats and deer can actually feel the energy.
3,000 Times more effective then bleach!!!
10,000 SQFT Odor Absorbing Power!!!
Kills 24 Different Bacterial Viruses
Antibacterial *Anti microbial  *Antiseptic *Anti-inflammatory and *Antiviral Properties!*Fights Off Staphylococcus aureus, Phenomenal Ecoli and Listeria 
Fights Off Bacterial Infections Antibiotic Properties similar to Amoxicillin
Invented and Manufactured  In Sugar land, Texas!!!

 

Great for Taxidermist Aoudad hides, Ibex, Hog, Zebra, Sheep and Ram Exotic Species, Fallow, euro's, velvet antlers.
---
Share this Product
---
More from this collection